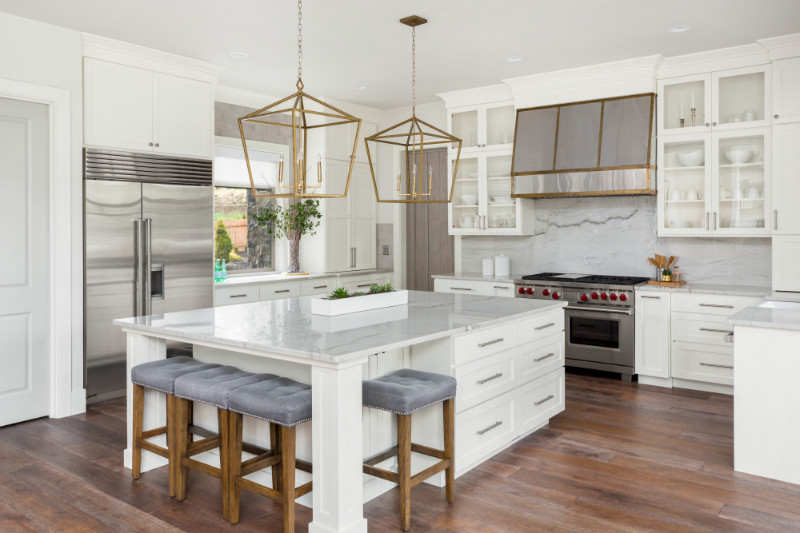 What's in store for Dallas home design in 2021? From health to travel, here's what the experts have to say.
Health and wellness-focused home design
The COVID-19 outbreak has emphasized the importance of health, sanitation, and wellness, and this extends to home design trends. Research by Parks Associates found that 33% or one-third of smart device owners in the United States increased usage of their devices during the pandemic while 63% of consumers purchased smart devices, according to a Xiaomi survey.
As we go into 2021 and beyond, buyers will seek out smart home features like touchless faucets, motion sensor lights, and smart video doorbells that help reduce contact with frequently touched surfaces.
They will also be more concerned with indoor air quality, which necessitates home designs that allow for proper ventilation, which have provisions for air purifiers and UV sterilizers.
Home gyms will also be in high demand – Peloton bike sales increased 66% in Q1 2020 with over 2.6 million members enrolled in paid classes. Designers should utilize any available indoor or outdoor space, creating exercise rooms where homeowners can focus on their fitness goals.
Meditation gardens and spa-inspired bathrooms with soaking tubs, smart devices, and plenty of natural light will become essential to the modern home.
Kitchen and bathroom countertops with antibacterial coating or surface treatment will also be in high demand.
Greenery and outdoor living
A Realtor survey found that outdoor spaces like yards, gardens, patios, and balconies have taken on renewed importance among buyers during the pandemic. Design experts will be tasked with creating outdoor areas that provide sufficient shade and seating, incorporating greenery and natural light into the overall look and feel of these spaces.
For the best outcome, buyers will need to determine whether the outdoor space will be used actively, as a place to work, eat, exercise, and entertain friends and family, or passively, such as a garden to be admired from inside the home.
From there, designers will determine the best furniture pieces and smart devices for these outdoor areas, making sure that homeowners are able to maximize any available space.
Global chic and travel décor items
As COVID-19 continues to transform the travel and hospitality industries in 2021, our living spaces will take on global inspirations and recall our travels. A Hilton Hotel study found that 95% of Americans miss travel while 53% say that their travel memories are more important to them than their smartphones.
Globally inspired décor and curated pieces from previous travels will meet our need to explore the world. Designers must create unique living spaces that feel global and personal at the same time.
For instance, organic materials like natural wood, rattan, and sisal can help give home interiors a global feel while framed photos can help conjure positive and heart-warming memories from previous vacations.
If you're planning on buying or selling in Dallas, TX, and nearby areas, contact The Joyce Realty Group here for more information. You can also reach the team at 214.773.9412 and Aubrey(at)TheJoyce(dotted)com.
As a boutique brokerage, we provide bespoke real estate services. We can also connect you with lenders, inspectors, insurance agents, and other professionals during the buying process. Let us help you find your dream home in the Big D.